I think that most of experienced Mac users should have heard about such an application as Alfred. If you don't know anything about it – Alfred is an app for quick program launching and file search. The developers of Alfred did really great job and created a reliable, stylish tool for managing different Mac aspects. If you use Alfred then you know how to open a file or an application. But there're some other features that may surprise you. Here I'd like to add that the latest Alfred versions support third party add-ons and that opens prospects for new possibilities.
So here're 5 things you can do on your Mac with the help of Alfred.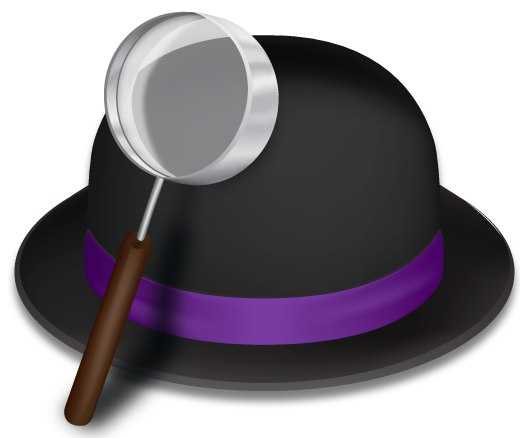 Note: all advice in this article requires Alfred Powerpack.
Launching of group of files and applications
The users of the extended version of Alfred Powerpack can create groups of files or applications in the extensions section. And this, in its turn, allows launching a pack of apps with just one click. It's a perfect option of you have a certain set of files or applications that you use for work or entertainment.
To do that you need to press the "plus" sign in the extensions section and choose "File or Group" point. Insert the information and add the applications you'd like to open here. In the "keyword" field you need to insert a shortcut you'll use for launching the apps. After that just type the shortcut in the Alfred and the set will be launched.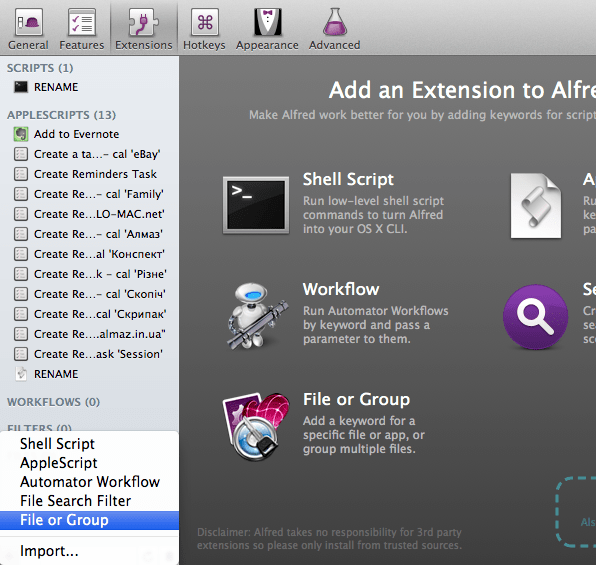 Tweet
With the help of a useful extension by David Ferguson you may tweet directly from your Alfred. Free extension AlfredTweet allows you to connect your Mac with your Twitter account and tweet from Alfred. Also, there's a list of commands that help you to control your Twitter, such as DM and "Follow" with the help of shortcuts.
If you're interested you may get to know more about this extension from the David's site.
Spotify management
Alfred's Mini Player for managing your iTunes music works really well, but if you use Spotify service, then you may control your music as well. In order to do that you need to install Spotify Controls extension by Jeffrey John and you'll be able to get information about tracks and artists from your Spotify libraries. It goes without saying that you need Spotify for Mac application to be installed on your Mac.

Working with Productivity applications
There're several Alfred extensions that allow cooperation with Productivity applications for Mac, including Evernote, Wunderlist, Things, Yojimbo, Toodledo, Remember the Milk and OmniFocus.
For example, with the help of extension for Evernote you may search and create notes in Alfred and add tags at the end of a note. Wunderlist extension may be used for adding new tasks to the system. And also you may look through the list of tasks with the help of it.
Things is an extension for task manager. It allows you to work with different projects and even dates when adding a task to Alfred.
It should also be mentioned that in case you use standard Reminders application, then you may quickly add new reminders there with the help of a separate script.
Working with your network
Alfred may also help you in working with your home network. With the help of the program you may find out your IP address, copy it into the clipboard and show it with the help of Growl notifications. You may also get to know the speed of your network connection and clear DNS on your Mac. To do that just install appropriate extensions.
Conclusion
Actually, there're much more extensions for Alfred than I mentioned in this article. You may launch AppleScripts and Automater processes, open your files, shorten URL-addresses with the help of bit.ly, synchronize files between you Mac and Dropbox and much more.
5 things you can do on your Mac with Alfred

Some useful things you can do on your Mac with the help of Alfred program. Launching of group of files and applications, Working with Productivity applications
Price: 29
Price Currency: GBP
Operating System: Mac OS
Application Category: Productivity