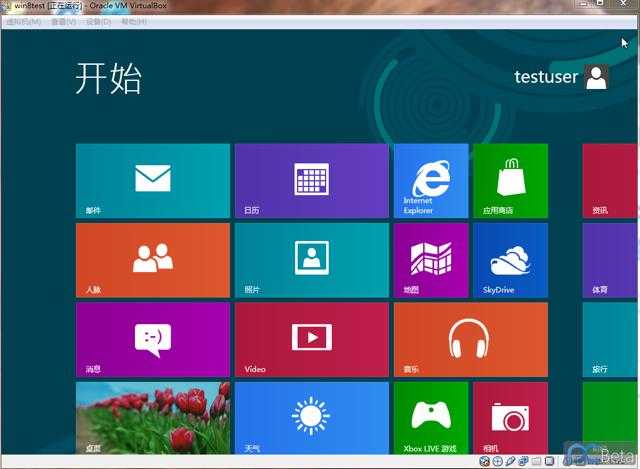 It's a long time since I made any post about Windows 8. The latest we've got is the Windows 8 Release Preview! It is the Release Candidate version of Windows 8 that is almost feature complete. The official release is really near, but we can't wait!
Windows 8 Release Preview has been scheduled to be released on May 31st, 2012. Yes guys, TODAY! You need to wait for a few hours though. In case you don't want to, download a LEAKED version of Windows 8 Build 8400. Unfortunately, it's Chinese, so you'd not like to! However, a language pack to change it to English can be installed. Want it? Leave a comment!
Earlier, it was expected that Windows 8 RP would hit the internet in June. We're getting it earlier. A wrongly timed blog post was posted on the Windows Hardware and Driver Developer Blog which pinned the release date of the next preview of Windows for May 31st. The post was made by Chuck Chan and was probably accidentally published earlier than expected. Hence, they deleted it in just 2 minutes. As you can see, the post no longer exists now. Want proof that it actually existed? Here is it: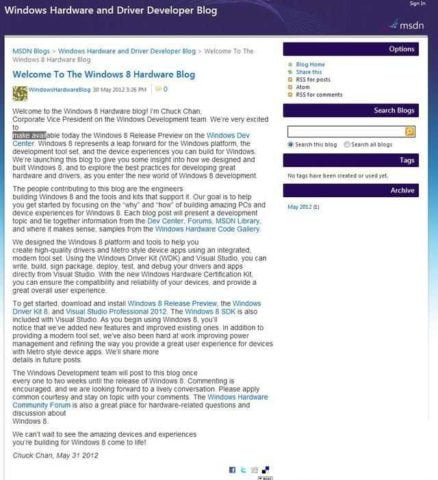 They even provided some download links!
Windows 8 Release Preview: Download here
Microsoft realized, pulled it down, and changed it to the Consumer Preview link. That's too down and now it links to search. Keep on hitting it! You never know when it comes alive and maybe you're the first guy to download it. ;)
HINT: It's coming alive today! Time, we aren't telling. :P
Windows 8 Driver Kit: Download here
Comes alive along with the above link.
Visual Studio 2012 Professional Release Candidate: Download here
Now it says Beta, but under the version it says 'Dev11'. This is some quick replacement and this is too coming alive along with the others today! :)
Our internal sources verified that the blog post is accurate, and the links are going to be available from XX:XX today!
Windows 8 Release Preview features a brand new theme, new cursors, new UI and a much more Metrofied look! Stay tuned and check it out!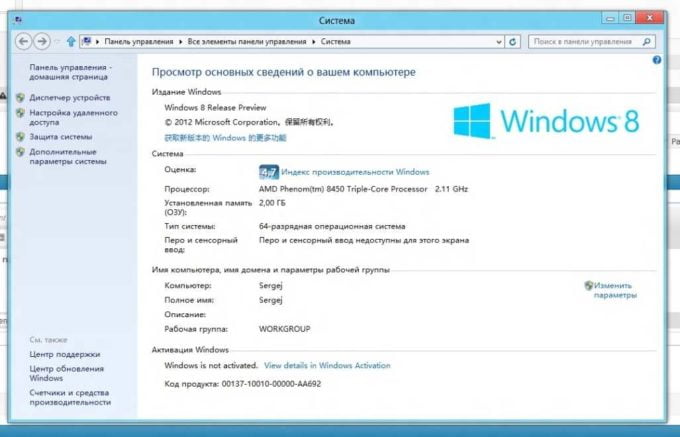 Pardon my curiosity to check out the Russian Language pack, LOL. I don't even understand anything in Russian. :P Notice the new controls and buttons..
The entire text of the blog post to be made by Microsoft is below, in case you wanna' check out.
Welcome to the Windows 8 Hardware blog! I'm Chuck Chan, Corporate Vice President on the Windows Development team. We're very excited to make available today the Windows 8 Release Preview on the Windows Dev Center. Windows 8 represents a leap forward for the Windows platform, the development tool set, and the device experiences you can build for Windows.
We're launching this blog to give you some insight into how we designed and built Windows 8, and to explore the best practices for developing great hardware and drivers, as you enter the new world of Windows 8 development.

The people contributing to this blog are the engineers building Windows 8 and the tools and kits that support it. Our goal is to help you get started by focusing on the "why" and "how" of building amazing PCs and device experiences for Windows 8. Each blog post will present a development topic and tie together information from the Dev Center, Forums, MSDN Library, and where it makes sense, samples from the Windows Hardware Code Gallery.

We designed the Windows 8 platform and tools to help you create high-quality drivers and Metro style device apps using an integrated, modern tool set. Using the Windows Driver Kit (WDK) and Visual Studio, you can
write, build, sign package, deploy, test, and debug your drivers and apps
directly from Visual Studio. With the new Windows Hardware Certification Kit, you can ensure the compatibility and reliability of your devices, and provide a great overall user experience.

To get started, download and install Windows 8 Release Preview, the Windows Driver Kit 8, and Visual Studio Professional 2012. The Windows 8 SDK is also included with Visual Studio. As you begin using Windows 8, you'll notice that we've added new features and improved existing ones. In addition to providing a modern tool set, we've also been hard at work improving power management and refining the way you provide a great user experience for devices with Metro style device apps. We'll share more details in future posts.

The Windows Development team will post to this blog once every one to two weeks until the release of Windows 8. Commenting is encouraged, and we are looking forward to a lively conversation. Please apply common courtesy and stay on topic with your comments. The Windows Hardware Community Forum is also a great place for hardware-related questions and discussion about Windows 8.

We can't wait to see the amazing devices and experiences you're building for Windows 8 come to life!

Chuck Chan, May 31 2012
Download Windows 8 Release Preview! - GizmoLord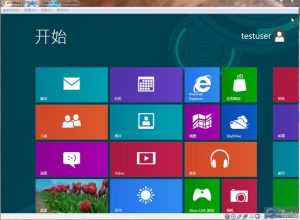 It's a long time since I made any post about Windows 8. The latest we've got is the Release Preview! It is the Release Candidate version of Windows 8 that almost features completely. The official release is really near, but we can't wait and we can now Download Windows 8 Release Preview
Price: 0.00
Price Currency: USD
Operating System: Windows 8 Release Preview
Application Category: OS