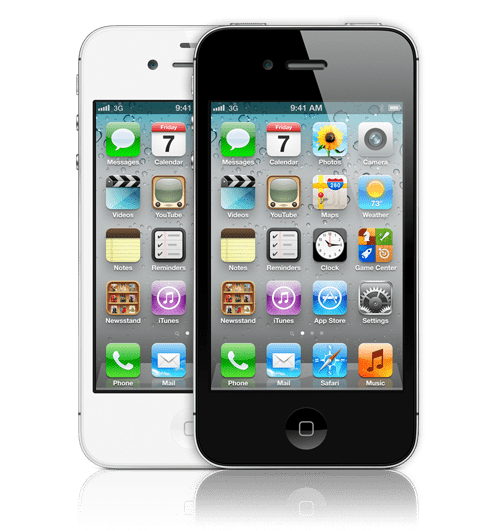 iPhone 4s
Apple just announced The iPhone 4S which according to me is a big patch all over the smartphone market.
The Hardware features r boosted with a set of app smashing out all other OS's right out of the BOX. It's rooted with an A5 dual-core processor as in Ipad 2 and it's claiming to give a 7X performance upgrade over iPhone4G. The Ram has been upgraded to 1GB.
It also features a 3.5inch Retina Display and a Whooping 8Megapixel Camera crunching@3264*2488 claiming 60% more pixels,73% more light,30% sharper, and 33% faster capture in comparison to previous devices. It also offers the first capture at 1.1secs and a second capture within 5 secs almost better than all others and it's not over yet it also offers a 1080p HD video recording with Video Image Stabilization and temporal noise reduction.
The Battery Backup Is also Optimized:
3g talktime-8hrs
2G Talktime-14hrs
3G Browsing-6hours
Wi-Fi Browsing-9hrs
Video Playback-10hrs
Music Playback-40hrs
Connectivity
The Connectivity is optimized with an HSDPA connection with 14.4mbps Downstream and 5.8Mbps upstream capacity almost double the iPhone4's.
Airplay Mirroring
Introducing Airplay mirroring helps your connect to TV means you can get your gaming big and bigger screens.
Main Focus: Siri
Yup, it is here Siri ur ultimate Assistant a robot or to say a Super Personal Assistant which can do anything. Yes, as I say anything. It is like your personal assistant in your pocket who can do anything your personal assistant can do like reserve rooms, placing orders, weather and all that you need to do is ask, just ask!!!
Pricing:
Black and white versions 16GB: $199, 32GB for $299, 64GB for $399 with a carrier Agreement of 2 years from Verizon. It'll hit US, Canada, Australia, the UK, France, Germany, and Japan. In the US it'll be Verizon, AT&T, and Sprint!