For any website over the internet, a contact form is the most crucial aspect. Websites or blogs designed with WordPress CMS have plenty of free and paid plugins which help in building forms for various requirements. Some of the popular form builder plugin names are Contact Form 7, WPForms, Gravity Forms, Formidable Forms, and Ninja Forms.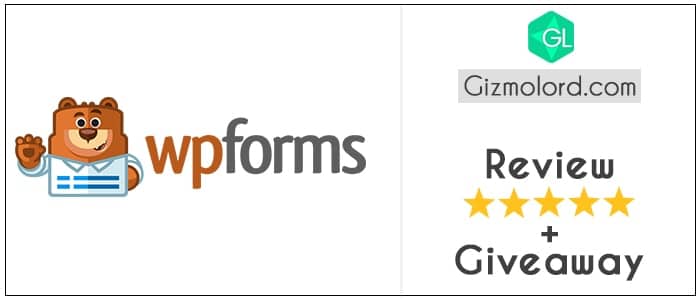 You may have come across the name "WPForms" somewhere over the internet for sure. The guys behind WPForms designed this plugin as the most beginner-friendly form builder in the WordPress ecosystem. We will be reviewing WPForms in this article in a detailed manner covering its features, wpforms addons, performance, flexibility, usability, pricing, and more.
What is WPForms?
WPForms is designed as the most beginner-friendly form builder plugin for WordPress. The interface is completely drag and drop making it easy for users with zero knowledge in coding. There are many pre-built WPForms templates for different purposes all in ready-to-use format with few clicks. WPForms is a complete solution for all your form-building tasks.
Why your website requires a Form Building Plugin?
99% use cases of overall WordPress installs in the world requires a contact form plugin. A contact form allows you to have more control over the necessary details you will require from users when contacting you. Displaying your email address on the website exposes your email address to potential hackers and spammers and you must refrain from doing such.
A good contact form plugin will not only build contact forms for you but also allows you to integrate your lead generation services, email newsletter subscription, generate survey forms with polls, generate payment forms, generate registration forms, and many other useful features.
WPForms Versus the Competition
As mentioned previously, WPForms was built with an aim to have a beginner-friendly form builder in the WordPress ecosystem. Although it is beginner-friendly, it also caters to advanced users with its extensive features. WPForms also supports the new Gutenberg editor. WPForms also helps in creating surveys and polls with an easy-to-use drag-and-drop editor without the help of a developer. This makes WPForms as the best survey software in the WordPress ecosystem.
WPForms is available as WPForms Lite (Free) and WPForms Pro (Paid). The WPForms Lite plugin is a complete form-building package in itself. The free version provides enough functionalities to create attractive contact forms for your WordPress site in few clicks. As you grow and your needs grow, you can upgrade to their paid WPForms Pro plugin and choose an appropriate license option from their current 4 different license options namely Basic, Plus, Pro and Elite with different set of features.
Contact Form 7 vs WPForms
In the free segment, Contact Form 7 is quite a popular plugin that serves the purpose of creating a basic contact form for their WordPress site. But Contact Form 7 has its own demerits too when it comes to vulnerability. Being one of the popular plugins in the WordPress repository, this plugin is always on the target list of cyber attackers. You can have a google search with terms such as "contact form 7 vulnerability" and you will see a ton of results about the vulnerability of the Contacts Form 7 plugin.
Gravity Forms plugin is one of the popular premium form building plugins. The pricing of gravity forms starts from 59 USD per year for 1 website. This plugin helps a user to add any type of forms to their WordPress site. The only major drawback of Gravity Forms in our point of view is the complexity it has within itself in creating and designing a form. Although it has the drag and drop interface for creating forms, styling the form is not so beginner-friendly and it needs some basic coding knowledge. The pricing of gravity forms is a little bit on the expensive side.
Ninja Forms vs WPForms
Ninja Forms is the next alternative to Contact Form 7 in the free WordPress form building plugins segment. Ninja Forms is available free of cost but it sells addons for additional functionality to its plugin separately. Users who require only a certain set of functions can purchase the respective addon avoiding additional costs for the bundle. But this selling model will prove costlier to those power users who will require more additional functionalities by purchasing multiple addons which will overall become expensive than any of their competitors.
WPForms Pricing
WPForms comes with 4 different licensing options with different set of features in each license type. We are attaching their pricing table from their website as under: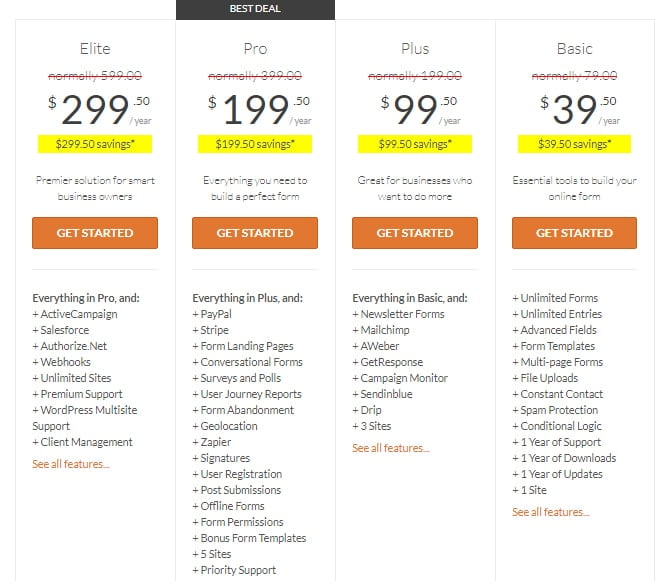 They also offer an unconditional 14-days money-back guarantee if for any reason you are not satisfied with the product and its functionalities.
Get WPForms Pro license Free
Gizmolord.com is arranging 3 licenses of WPForms for our readers. This giveaway is being run using the popular giveaway plugin Rafflepress. Rafflepress is an all-rounder plugin to run any giveaway/contest/draws with ease. The giveaway will run for the next 15 days and winners will be announced automatically by the Rafflepress software calculated by the highest winning entries.
WPForms Review and Giveaway 2021 - GizmoLord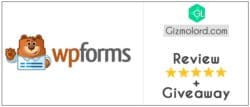 WPForms is designed as the most beginner-friendly wordpress contact form plugin. WPForms interface is completely drag drop online form builder making it easy for users with zero knowledge in coding.
Product Brand: WPForms
Product Currency: USD
Product Price: 39.50
Product In-Stock: InStock