Build iPhone Apps: Now wouldn't that be fun! Today, when the demand for mobile application development is so high, it is hard to come across a reliable iPhone app developer. Moreover since it is your own business, only you will know what you want from it, and exactly how would you want to execute it. This is why; being able to build an iPhone app online gives you an upper hand in the industry.
Build iPhone Apps
Following is a list of tools that you can use to create your own iPhone apps!
Sweb Apps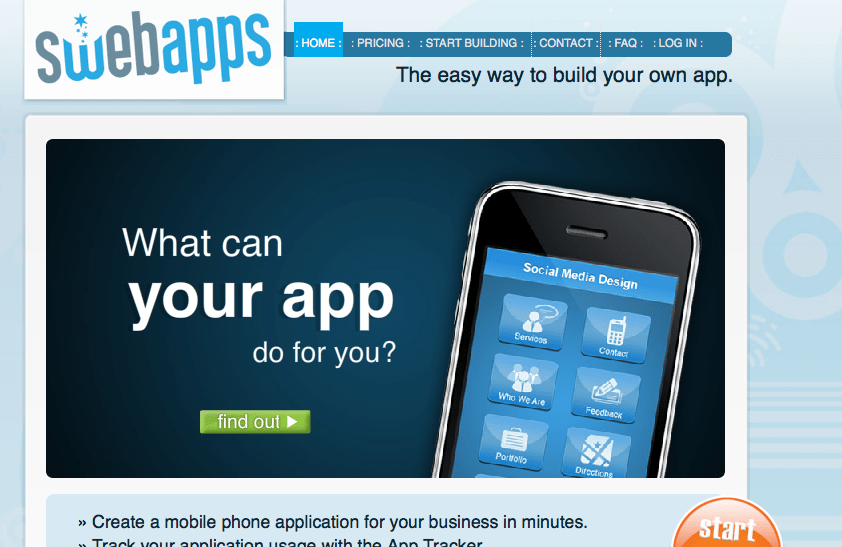 Sweb Apps provides an online service which enables people to build their own iPhone apps. The great thing about this is that one does not need to have any knowledge regarding coding and other technological knowhow. This service what essentially brought about with the idea of helping people with small and medium sized business who wanted to tap the potential of the vast user community of iPhone users.
Sweb Apps essentially offers preset themes and templates that you can personalize with the help of options. You can change colours, backgrounds fonts etc. with the help of the options present in order to create what you want.
What's more, there is a whole catalogue that offers graphics provided by the in built library. You can choose buttons available from that. The available options are:
• Menu
• Directions
• Map
• Search
The company provides four-, six- and eight-button packages. These include a one-time set-up fee of $50 per button. You can also go for another option of getting it at $25 monthly hosting fee applied to every application going forward.
AppIncubator

It happens a lot of times that people get great ideas to develop apps but don't have the technical acumen to create it. You know all the technical stuff and the coding and all. Yes, this service allows you to submit your idea for the App t it and it builds it for you. Simple. Genius.
I mean just think about it. It's so much more convenient that stalking a decently abled iPhone app developer, bargaining with him on the rates, keeping up with his share of whims and fancies, and finally then getting an app which way different than what you originally hoped for.
It's quite simple actually. Simply go to the AppIncubator site and follow their direction to fill in your app idea. Then go to the storyboard section and explain in detail the exact function that you envisage your app to have.
Essentially the service itself is free, but MEDL mobile (the company offering AppIncubator) shares only 25% of the profit with you and keeps the rest for itself. Ouch!
Kanchoo

Kanchoo is another platform that enables you to create a very specific application. You must design your own logo and send it to the company along with a splash screen in .png format. You must also enclose a detailed description of how you would like your app to work. Once you are through this, consider your work done.
You simply have to upload the content which can comprise of text or images and create your app with the given tools. The only downside is that it is slightly on the expensive side because you will first have to create an account and pay $88 for creating the application, followed by a recurring monthly payment of $28 per month for Bandwidth and hosting.