Samsung Galaxy S3 users will get a sweet taste of Jelly Bean 4.1.1 to their great handset with Cyanogen way (CyanogenMod 10). Yes, CyanogenMod is no way an unknown name to the vast android users. They are one of the most famous developers for android platform releasing customized ROM for majority of the android devices out in market with good support and dedication.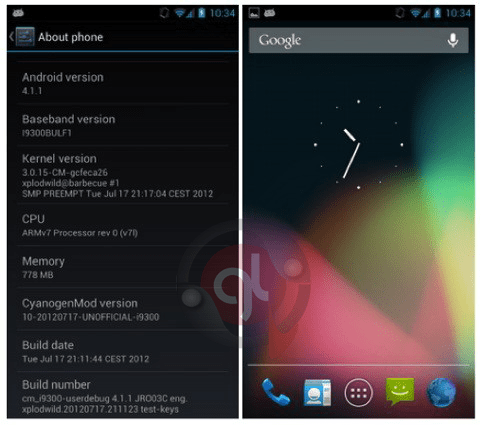 We ought to see some preview of the latest project CyanogenMod developers are working upon : CyanogenMod-10. CyanogenMod-10 will feature the latest android release from Google named Jelly Bean which is android version 4.1.1. Jelly Bean for sure has caught the attention of masses for its high responsive UI, butter smooth experience with fast accelerated response. Though it wont be really that sooner when Samsung releases official update to Jelly Bean 4.1.1 to their flagship model Samsung galaxy S3 running Ice Cream Sandwich 4.0.4. There comes CyanogenMod Developers to lend help on the unofficial updates to our android phones to have the latest stuff packed for our mobile devices.
CyanogenMod-10 for Samsung Galaxy S3
According to XpLoDWilD, the build is under development and a preview release has been out published over at XDA-Developers forum : [ROM][GT-I9300][4.1.1] CyanogenMod 10 -PREVIEW #3. As the build is still in development stage, it ought to have some bugs and the known bugs so far is as mentioned below:
Known Bugs:
FM Radio
Camera is unstable, though taking pics should work
WiFi tethering is semi-broken
Judging by the Known Bugs, it seems not much a major bug to carry with. Still, its a work in progress and CyanogenMod Developers are definitely working on it to improve till the best.
Users who are eager to have the taste of Jelly bean like any anticipated android users, can try this ROM and get the very latest android Jelly Bean 4.1.1 on their Samsung Galaxy S3 device. The ROM is currently only for the international model of the Samsung Galaxy S3, while the US variant is still in need of some progressive work. Instructions to download and install this ROM and further enquiries can be made at the official thread  at XDA-Developers: [ROM][GT-I9300][4.1.1] CyanogenMod 10 -PREVIEW #3
CyanogenMod has not left support for contract based phones too (check it out below):
Do let us know the experience you go with the CyanogenMod10 for Samsung Galaxy S3 via comments below. We would like to hear more from you.