Snapdeal is one of the largest e-commerce website in India and it indeed is one of the popular online store when it comes to buying products at cheaper price than its competition. Snapdeal believes that making their customers happy is one of the greatest deed they could do to prosper in life and business both. This approach by Snapdeal is further extended to their recent campaign they have launched with name "#GoodDeedWithSnapdeal". The core concept of this campaign from Snapdeal is to motivate people in doing some good deed to someone to make a life and soul happy.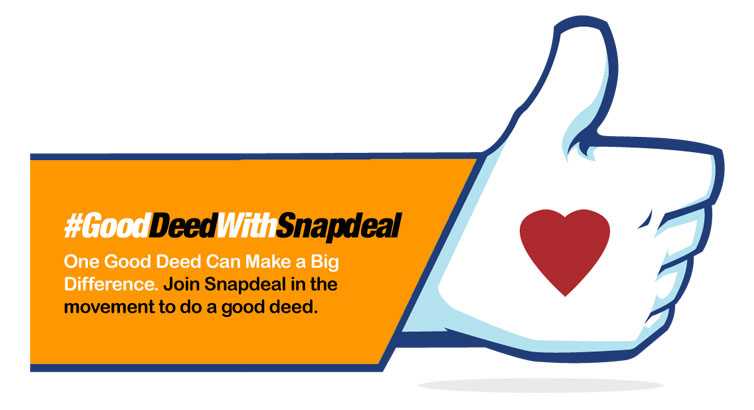 Recently, Indian Prime Minister Shri. Narendra Modi launched a campaign named "Swachh Bharat Abhiyan" where the prime minister had put forward the ideologies of Mahatma Gandhi in keeping our surroundings clean for a clean and hygienic life. This campaign aims at promoting and motivating people to engage in cleaning the streets, roads and infrastructure of the country. The campaign is highly overwhelmed by a large population of the country and believes this to be one of the finest campaign which gives a special moment for the citizens to contribute voluntarily to the nation's development with clean India mission.
Such campaigns have a huge impact on the social media for its voluntary and competitive nature both associated in a challenging space of social media. Such campaigns are kick-started by an Organization, NGO, Brand and various other incorporations by nominating 2 or more persons to accomplish this campaign challenge. The nominated persons then nominate others to take up this challenge which goes into a chain movement.
Good Deed with Snapdeal
Snapdeal here has launched a "Good Deed with Snapdeal" challenge where a person need to do some good deed to others and capture those precious moments as in pictures or videos to share it in social media with Hashtag #GoodDeedWithSnapdeal along with nominating friends and families to participate in the challenge. Snapdeal wants people to join them in the #GoodDeedWithSnapdeal initiative. One good deed can make a big difference.
Steps to join this initiative:
Do a real good deed today. Help someone in need.
Post it with a picture or video on Facebook, Twitter OR Instagram with #GoodDeedWithSnapdeal
Nominate 2 or more friends to join the campaign.
Return the deed by appreciating someone else's good deed.
We at GizmoLord support Snapdeal for this noble initiative with the campaign #GoodDeedWithSnapdeal. It is one of the best recent social campaigns we have witnessed.
You can refer this link for more details : https://gooddeed.snapdeal.com/