Not Much after the release of HTC Next-gen Phone's at MWC, And we were thinking about their Price in India and here they Enter. We find HTC One S missing, but not to worry we will find out soon.
HTC One X
HTC One X Suppose to be a beast and a Next-gen Revolution in Smartphone Era, Well simply we can Denote it as Super Smartphone! For Your info, this thing got Micro SIM Slot Only and No SD card Slot and Supports 21 Mbps HSDPA. It is readily available for Pre-Order at Flipkart. At quite Premium Price. Well its a nearly Huge price tag @ 37899 INR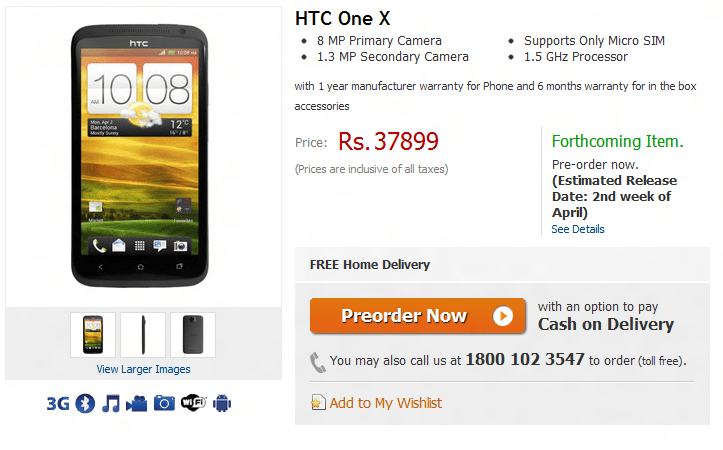 HTC One X Specifications:
 4.7-inch Super LCD 2 Touchscreen
1.5 GHz quad-core Nvidia Tegra 3 Processor
Nvidia ULP GeForce GPU
It comes with 32 GB Internal Memory(26 GB User Accessible  and 1GB Ram
Primary Camera:- 8 MP(5 Stage LED Flash) with 1080p HD Video Recording
Secondary Camera:- 1.3 Megapixel
1800 mAh battery
The handset comes preloaded with Android 4.0.3 with HTC Sense 4.0
HTC One V
HTC One V The Last and the youngest brother of the Trio probably due to fewer resources but still enough to share some stats is priced at 18299 INR well quite hefty again. Also Expected to Drop down to 14-15K INR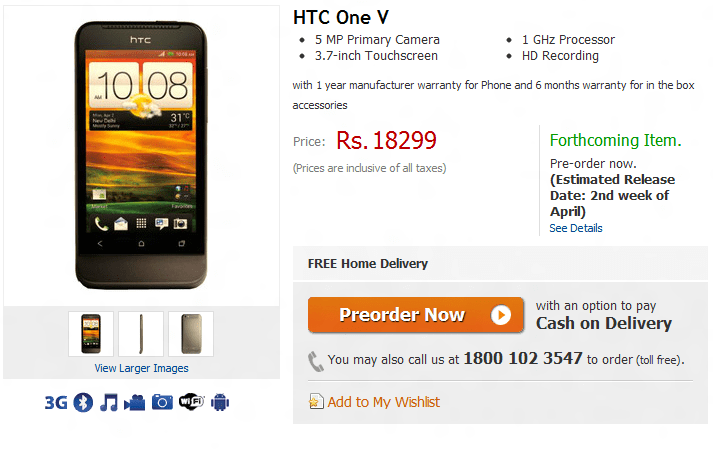 HTC One V Specifications:
3.7-inch Super LCD 2 Touchscreen
1 GHz Processor
Adreno 205 GPU
4GB Internal Storage and 512 MB RAM
Primary Camera:- 5 MP + autofocus, LED flash and 720p HD Recording
No Front camera
1500 mAh Battery
The handset comes preloaded with Android 4.0.3 with HTC Sense 4.0
Well, The main brother is missing, The HTC ONE S which will lie somewhere in between 30000-33000 INR. Will Soon be updated as we get any Priceleaks!
So, what do u think about these prices, looking to go for a  Pre-Order?