Back in Time, Kingston Technology came out with the DataTraveler HyperX USB 3.0 Flash drive in December 2011 which Still claims the fastest portable storage device that money could buy. The Kingston DataTraveler HyperX USB 3.0 Flash drives had a 225MB/s read and 135MB/s write speed. But they were bumped with High Price tags as we said: "That Money Could Buy".
The DataTraveller Elite 3.0
What we have here now is an Economic Solution Which Doesn't blow a hole in Your Pocket. The DataTraveller Elite 3.0, which pockets a 70MB/s Read Speed and 30MB/s Write Speed Probably more than twice the Speed USB 2.0 Flash Drives.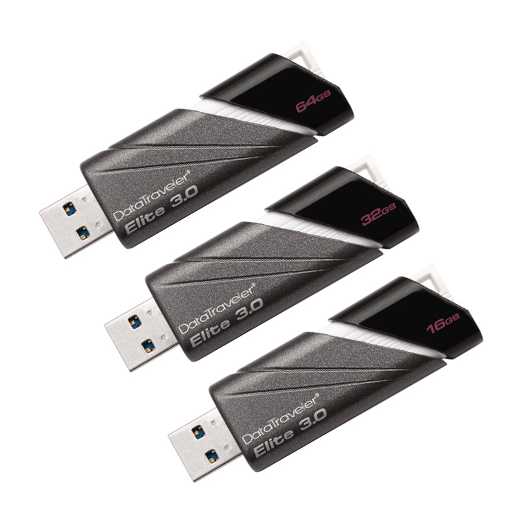 As consumers store and carry more HD video, digital artwork, music, and presentations, faster devices are required to keep pace with one's digital lifestyle. With more PCs shipping with USB 3.0 ports, the new DataTraveler Elite adds to Kingston's USB 3.0 family and is the perfect solution for those who require faster transfer speeds without breaking the budget.

                                        –Andrew Ewing, Flash Memory Business Manager, Kingston
This new USB 3.0 flash drive is backward compatible with USB 2.0.DataTraveler Elite 3.0 features a sleek, capless, and retractable design to protect the USB connector. As of the Storage Capacities, The DataTraveller Elite 3.0 comes in 16GB,32GB, and 64Gb.
Here's a Quick preview of the Device
Kingston DataTraveler Elite 3.0 Specifications:
Capacities: 16GB/32GB/64GB
USB 3.0 speed: 70 MB/s read and 30 MB/s write
USB 2.0 speed: 30 MB/s read, and 20 MB/s write
Dimensions: 69.05mm x 21.6mm x 11.1mm
The DataTraveler Elite 3.0 Flash drive comes with a 5-year warranty in case something goes wrong and it needs to be replaced. The prices are not revealed yet. Stay Tuned till we get the Prices Listed.
You can also check our review of Kingston Value RAM 8GB DDR3 PC3-12800 1600MHz RAM