Thirsty Affiliates is an awesome all-in-one link-redirection plugin for the WordPress superheroes. The plugin is fairly recent, and is no doubt one of the most powerful affiliate link cloaking plugins available for the WordPress platform. The plugin itself is free, but offers some incredible add-on such as click stats and auto linker. The plugin is easy to use, and it works fast, ensuring no additional delay in page load unlike tons of other low-quality plugins for WordPress.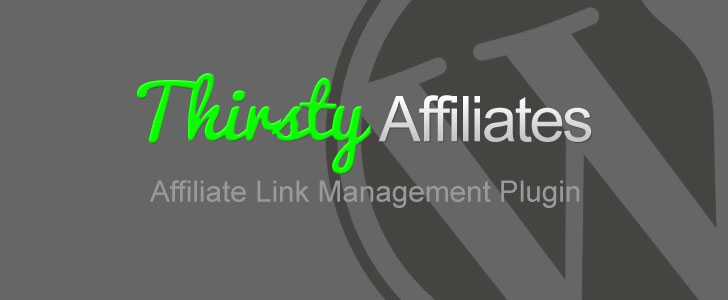 What is Affiliate Marketing?
Wikipedia has the best answer to this question:
Affiliate marketing is a type of performance-based marketing in which a business rewards one or more affiliates for each visitor or customer brought by the affiliate's own marketing efforts. The industry has four core players: the merchant (also known as 'retailer' or 'brand'), the network (that contains offers for the affiliate to choose from and also takes care of the payments), the publisher (also known as 'the affiliate'), and the customer. The market has grown in complexity, resulting in the emergence of a secondary tier of players, including affiliate management agencies, super-affiliates and specialized third party vendors.
So, basically, in most cases, you gotta refer a business a customer who pays for one or more of their services, in order to obtain a commission from the company.
Tell me more…
Affiliate links are usually long and ugly. Like this:
https://yourdomain.com/?clickid=3A2UF7ybeWqW1Rl3n%3A1GjypwUkWUUmXRq0WwXs0&mp_value1=&mp_value2=&mp_value3=&aff-id=somegoddamnaffiliate
ThirstyAffiliates create short and good-looking URLs and redirect them to the original links. Like this:
https://yourdomain.com/refer/company/
These shorter links serve two purposes:
Affiliate Marketers don't have to remember / store somewhere the long, ugly affiliate links.
Shorter links tend to impress visitors more, and also get clicked more by them.
Unfortunately, without a plugin, probably the only way for you to transform those ugly affiliate URLs into tiny, lovable ones is to use cPanel's (or any other web hosting control panel's) URL redirection tool, or do some .htaccess editing every time you wish to create a redirection for a new affiliate link.
Enter ThirstyAffiliates…
Now ThirstyAffiliates makes the job of affiliate URL redirection and management damn easy! With the help of it, you can create new URL redirection and do hundreds of extra things within seconds.
This revolutionary new free plugin is a marketers' choice. Nearly automating the process of affiliate linking, ThirstyAffiliates ensures more clicks on your affiliate links and more revenue! This free plugin is developed by an Australian developer named Josh Kohlbach.
Why Choose ThirstyAffiliates?
We have recently started using the plugin on our site and We believe it's the best affiliate links management plugin that we have come across. It can be seen in action in this particular post where ThirstyAffiliates keyword has been cloaked with the affiliate link. We only recommend products and services that we use or that we would use. The results are pretty impressive too.
If you already have targeted traffic on your site, ThirstyAffiliates would be the icing on the cake, as I've personally seen the conversion rate incline from a staggering 2% to a solid 8%. ThirstyAffiliates allows you to store your affiliate links in a well organized way and can be categorized as accordingly which is much easier to manage. It also allows you to create branded affiliate links which can be automatically placed in the specified keywords mentioned for that particular affiliate link. You can even add the category slug into the ThirstyAffiliate cloaked URL for your affiliate link which can be further managed and classified easily.
Why we like ThirstyAffiliate over other Affiliate link cloaking plugins available is its deep Wordpress functionality integration. It uses the built-in functionality of Wordpress by creating a custom post type which makes it more compatible with all other Wordpress plugins available making no conflicts over them. It also uses the Wordpress inbuilt functionality of "Export" and "Import" for the ThirstyAffiliate cloaked links for your affiliate links making the backup process much easier.
Searching for a ThirstyAffiliate cloaked affiliate URL is pretty easier with the built-in search functionality provided. Also, inserting a ThirstyAffiliate cloaked affiliate URL in a post/page is as simple as inserting any other links into your posts. Simply click on the "Insert link" button in the post editor to find your affiliate links which can be added by a single click. Additionally, the plugin also has an option to cloak affiliate link in images.
There are quite a few important reasons why you should choose ThirstyAffiliates over anything else:
It's available for FREE over at WordPress.org!
The plugin is brilliantly coded, which ensures optimal site performance.
There are many paid add-ons for this plugin, necessary for pro marketers.
ThirstyAffiliates premium add-ons
ThirstyAffiliates Autolinker Addon:
This premium add-on makes it very easy for publishers to link the keywords to their cloaked affiliate link all on an automated process. The publisher need not have to manually input the cloaked affiliate link for any keyword in the post. The add-on allows you to specify any set of keywords for a particular affiliate link which will be automatically linked in every post where the keyword is mentioned. This will save a lot of time when you write an article on your blog.
You can just write your posts and not worry about adding the affiliate links in the article. For example, if we mention the pre-specified keywords StableHost, MDD Hosting, Hostgator, MaxCDN, it will be automatically linked to the specified cloaked affiliate link by ThirstyAffiliates Autolinker Addon.
ThirstyAffiliates Geolocations Addon:
With this add-on you can easily drive visitors to a country specific affiliate links. This add-on will add a new section in your affiliate link edit screen where you can specify or manage your geo-targeted affiliate links. Below is the screenshot of geo-locations panel for ThirstyAffiliate plugin.

ThirstyAffiliates Stats Addon:
ThirstyAffiliates Stats add-on is pretty essential when it comes to tracking the clicks on your affiliate links. This add-on filters out the web crawlers and thus gives you a perfect statistics of the 'user clicks' on your affiliate links. Below is the screenshot of how ThirstyAffiliates Stats add-on looks like.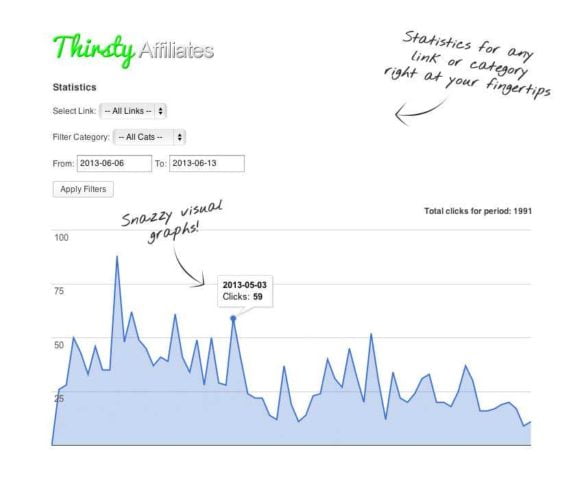 ThirstyAffiliates Google Click Tracking:
With Google Click Tracking add-on, one can easily add the recommended google click event tracking code in your ThirstyAffiliates cloaked affiliate links. This is very useful for novice bloggers who finds it tough to understand and implement the google click event codes. Below is the screenshot of how the google click event code inserted into your ThirstyAffiliate cloaked affiliate link looks like.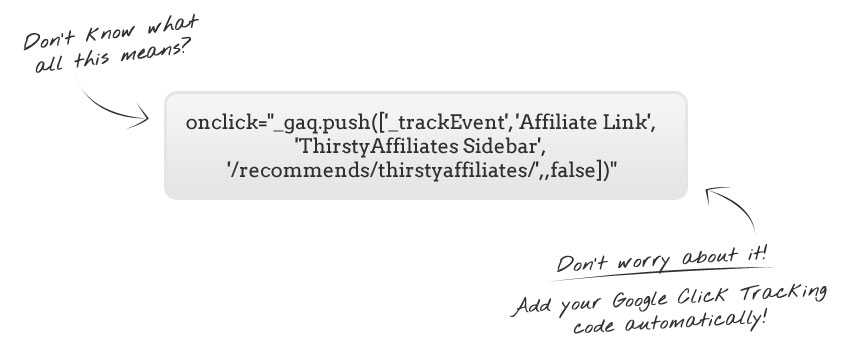 ThirstyAffiliates Giveaway:
What if we giveaway those premium add-ons for free? Sounds interesting? Yes, we in partnership with ThirstyAffiliates have arranged a giveaway for the premium add-ons you wish to have. The winning entry will earn a premium add-on of their choice from ThirstyAffiliate. All you have to do is login to the below provided rafflecopter portal and enter the entries mentioned over there. More the entries, more the winning chance.
Giveaway closed.
Reason: Giveaway winner declared.
Conclusion
There aren't many great affiliate link plugins available for WordPress, but ThirstyAffiliates is an exception among lots of low-quality plugins.
I recommend it to both novice affiliate marketers using WordPress, who can't afford to pay for a plugin yet, as well as established affiliate marketers who don't mind shelling out a few bucks for the add-ons. This is one of the finest and must have plugin for Wordpress platform if you are looking for affiliate marketing, no doubt.
Have you used ThirstyAffiliates? How's it in your opinion?
ThirstyAffiliates- Powerful Affiliate Marketing WordPress plugin - GizmoLord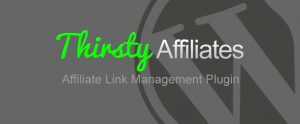 ThirstyAffiliates simply makes the job of affiliate marketing darn easy! Using it, you can create new URL redirections and do other things within seconds.
Product Brand: ThirstyAffiliates
Product Currency: USD
Product Price: 49
Product In-Stock: InStock