Applications for phones and tablets are highly popular right now, and that popularity does not show any signs of diminishing in the future. Those who have a business already and want to create an app for their business, and those who want to have an app as a business, need to know some of the basics of what it is going to take to create a successful app. Before getting into the need for a developer, though, consider how to develop the other aspects of the app first.
How to Develop Successful Application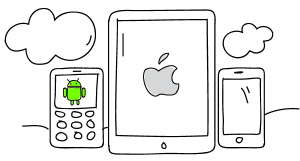 What's the App Going to Do?
First, you need to know what type of app you are going to create. What is it going to do? What makes it essential or fun? Is there another app on the market for this already, and can you make your app better? Knowing what you want to develop and having a clear idea of how you want it to work and look is going to make it much easier when you eventually find and hire your developer.
You Need a Good Developer
Of course, most people are not developers, so the actual development of the application should go to the pros. However, you will be able to hire developers. You may know someone who is looking into getting into the business and is willing to work with you for a smaller fee, or for a part of your earnings. If you want to buy the app, before the developer creates it for you without charging up front, this is possible, too. In fact, this is usually the best option. The price varies based on the complexity, but you can expect to spend several thousand dollars at least. Make sure that you look at quality when you are hiring a developer as well, as their price.
The Right Price
When your developer creates the app and you are ready to bring it to the world and sell it, you need to make sure that you price it right. You might think that the lower priced apps are going to sell more, and that might be the case in some instances. However, you will find that different types of apps sell better at different price points. In addition, you have to factor in the amount spent on the application and then come up with a price that will help you break even in a timely manner.
Once your app is done and for sale, it's time to market the app via social media, your site, and every other outlet that you can find. You have a lot of competition for attention, so marketing is important!