Do you guys remember when the popular game "Angry Birds" combined with "Star Wars" — the game "Angry Birds: Star Wars" downloaded more than 100 million times. According to Rovio, the developer of this game it is one of the top-selling game of the year.
Now, the game developers are trying to maintain the same popularity for the new games they are developing and so as the popular toy makers in the market. The popular toy makers are lining up to sign deal with Rovio and Lucasfilm, the owner of Star Wars license.
Teleport Physical Toys
The new hybrid digital and physical toy called Telepods which is coming fro Hasbro that will help to teleport physical toys into the digital game. Telepods are designed to work with new Angry Birds Star Wars game. This is set to be rush into market on September 19.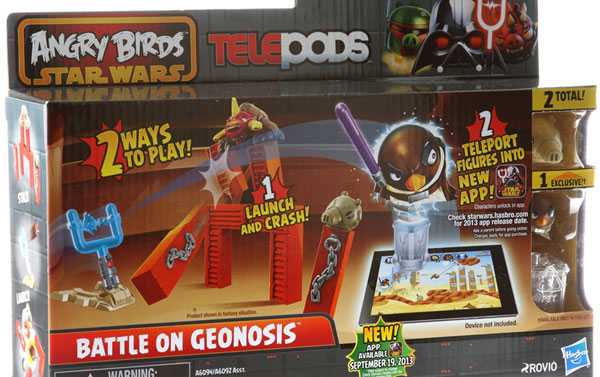 This game will gonna release different versions for iOS, Android, Windows Phone 8 and BlackBerry 10 devices. There will be a Telepods mode in new Angry Bird Star Wars game which will allow the physical toy to teleport into the digital game.
The new hybrid digital and physical toy looks exactly like Hasbro's other Star Wars stand alone action figures but this time with a laser readable product code. The players will use the front facing camera of their devices to scan the product code and once the scan is completed the toy will appear in digital form in digital device screen.
You need to teleport physical toys once into the digital game and you can play with that digitally formed physical toy again and again. Before Telepods, Activison has develpoed Skylander games which integrates physical toys with video games.
But the advantage of Telepods are it costs much less than the Skylander toys and gaming consoles and yes, you don't even need a TV screen to enjoy your game.
May be you have seen teleporting super humans into digital greeds in movies. Well, this is not that much similar to that but you can teleport physicals toys into digital games now which is amazing. You just need to wait until September 19 when the Telepods comes out.