An ever-growing number of people are using their mobile devices as their method of choice for accessing the Internet, looking for fast access to information while on the go. One of the most popular reasons people use their mobile devices to surf the web is to get information on businesses. Unfortunately, many small business websites were not designed to function on cell phones. Many of them load far too slowly, are difficult to navigate, and unintentionally hide important information. If you website is not mobile friendly, consider the following three steps for improving your site's speed, ease of navigation, and overall usefulness. Simply follow these three steps for creating an amazing mobile site.
Creating Amazing Mobile sites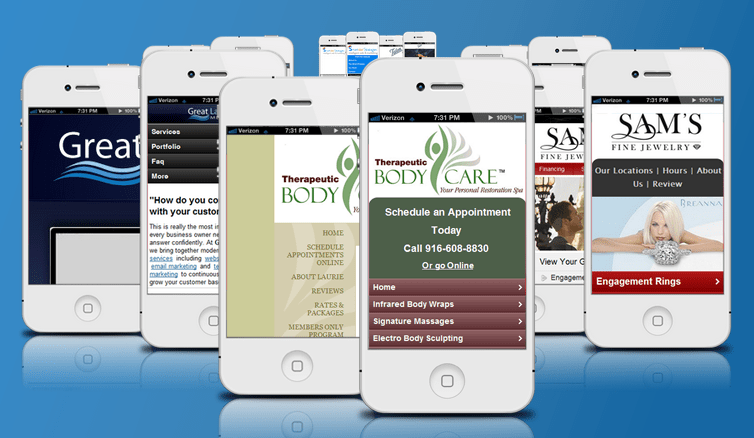 1.Test your site on your carrier's data network
Turn of the Wi-Fi connection on your cell phone to access the data network of your wireless carrier. Now, launch your cell phone's browser and type in the URL of your business' website. Start counting. If your home page loads fully within 5 seconds, then you are in good shape. If it takes 10 seconds or more, you have substantial room to improve.
Home pages that have complicated graphics, large images, flash animation, or videos take too long to load on mobile devices. Many mobile browsers do not support flash animation at all, which will make your website look empty. Also, if your cell phone only displays a mini version of your website, mobile users are going to have to work – zoom, scroll, pinch – to see anything. Importantly, your business' address, phone number, and hours of operation, need to be readily visible.
2.Start off with simple improvements
Depending on what you observe during your test, your site might need either a few changes or a major overhaul. If a complete redesign is necessary, but you do not have time or resources to make that happen, you can do a quick fix by putting this information on the top of your home page.
Business name and description
Complete street address
Operating hours
Phone numbers and email addresses
A link to your site's mobile version
Include this information should load first, above and banner graphics or background.
3.Make a mobile-friendly version of your site
This should be pretty straightforward. If your website was built with a tool that has a mobile theme layout, then apply one of those themes to your site. Most, if not all, of the most popular web site building tools have inexpensive or free mobile layout themes.
Or, you can choose to create mobile website separately. There are several inexpensive products and services that make this easy to do, even for people who are not tech savvy. Mobile site addresses are a little different from standard web addresses. They might start with "m." at the beginning of the regular web site address, or end with the suffix ".mobi". However, typing your regular address into a mobile browser should take you directly to the mobile site.
Following these three simple steps will make your website easier to use on mobile devices. They will also make it more visible in mobile search engine results.