Tweetian is the only Twitter client for Symbian belle devices with Swipe UI and rich MeeGo like graphics, the Client is developed by Dickson using QT/QML.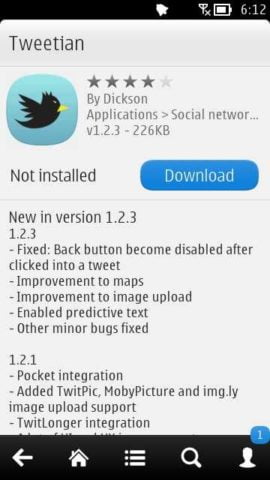 The new update v1.2.3 brings several performance and ui enhancements , and a major Bug is fixed for Symbian belle Feature Pack 1 devices. The applocation already has all basic Twitter functions such as Retweet , Follow , Search , Trends , Photo upload.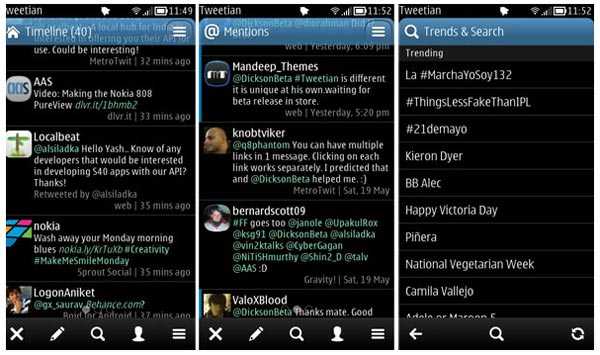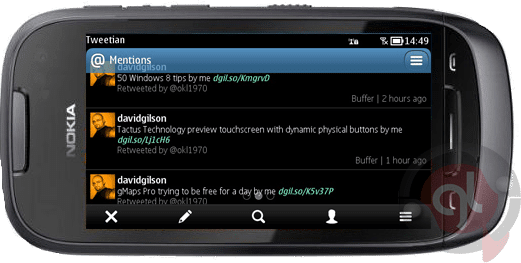 However the additional features such as "TweetLonger" (you can tweet more than 140 characters) and "Translate Tweets" make this client unique. In my view its the best Twitter client for symbian belle devices which is most user friendly and Eye-candy. And guess what, the app is free at Nokia store.
Official Tweetian update change-log
Fixed the back button become disable after clicking into a tweet in Belle FP1
Fixed non-Latin characters becomes question marks (?) when uploading image with Twitter
It will now remember the last image upload service that you used
Fixed the tweets become stacking and overlaying each other (Let me know if still exists)
Enabled predictive text when writing new tweet
Huge improvement to maps:
You can panning around the map
Pitch to zoom in or zoom out
Added a "location mark" to indicate the tweet location
Added a slider to zoom if you don't like pitch zooming
Able to open location with Nokia Maps app
When choosing image to upload, you can preview that image using native gallery app.
Get it NOW !!
Nokia store link : https://store.ovi.com/content/280255