You may have been wondering why Symbian doesn't have any unique unlock screens like other competitive mobile OS like Android, iPhone, and Windows Phone. Just hold on if you think the same, SlideUnlock app will make a BOOM at your face for thinking such
SlideUnlock
Yes, the SlideUnlock app will provide an all-new interface for the unlock screen methods for Symbian making it more interesting to unlock your phone screen. You may check it out at the Nokia store and purchase the app if you like to have this unique kind of unlock screens for your Symbian phone.
Now, the more interesting part is that our beloved user from the GizmoLord forum named Raunaq Patel has created a custom skin for this app which looks really amazing and hence I just thought to share this piece of creativity with you all :)
Have a glimpse of the unlock skin in the below screenshot: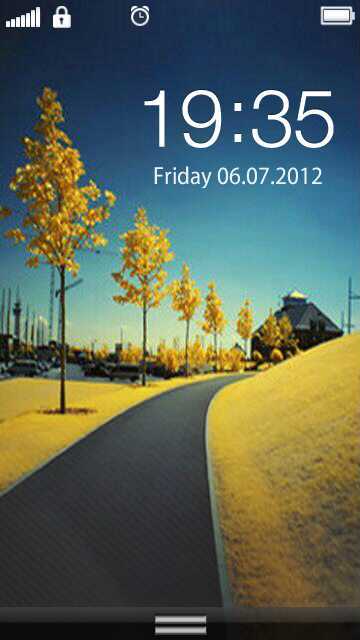 This unlock follows the SlideUnlock pattern of sliding upward to unlock the phone. So, you like to have this unique custom unlock skin for your Symbian phone? Just head on to the original topic posted by Raunaq at GizmoLord Forum in-order to grab this free skin to beautify your Symbian phone and show off to the world on how better is still the Symbian platform with engaging developers!
Download R-slide custom skin by Raunaq from Here.
Note: This custom skin should be installed only after installing the SlideUnlock App. Supported devices: Anna/Belle/S^3/S60v5