"Music regenerates the soul" – Who on earth wouldn't like music? But getting the right experience is what makes the music to its best. To many people in many cultures, music is an important part of their way of life. Music is a meaningful assembly of Sound and when it is delivered by SoundWave, it adds to its beauty. We recently got our hands on a review unit of SoundWave SW50 wireless bluetooth speaker.
SoundWave SW50 – Powerful audio device at affordable price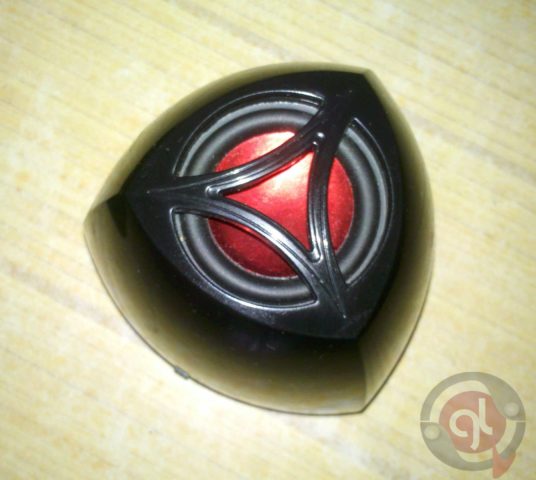 Design
SoundWave SW50 is designed very futuristic and looks really compact. The product is made of hard plastic and the central speaker cone design is really impressive and gives soundwave sw50 a geek appeal. A curvy triangular finish makes it look pretty neat with reflective coating and on each side of the triangular SW50 is a port or feature. There is a dedicated microphone for calling and recording functions. A Multi-function key has been provided for pairing the bluetooth device and for receiving an incoming call or making a outgoing call by double tapping the key which dials the last dialed number. There is ON/OFF switch assigned with a key sound. A mini USB port for charging purpose.
Packaging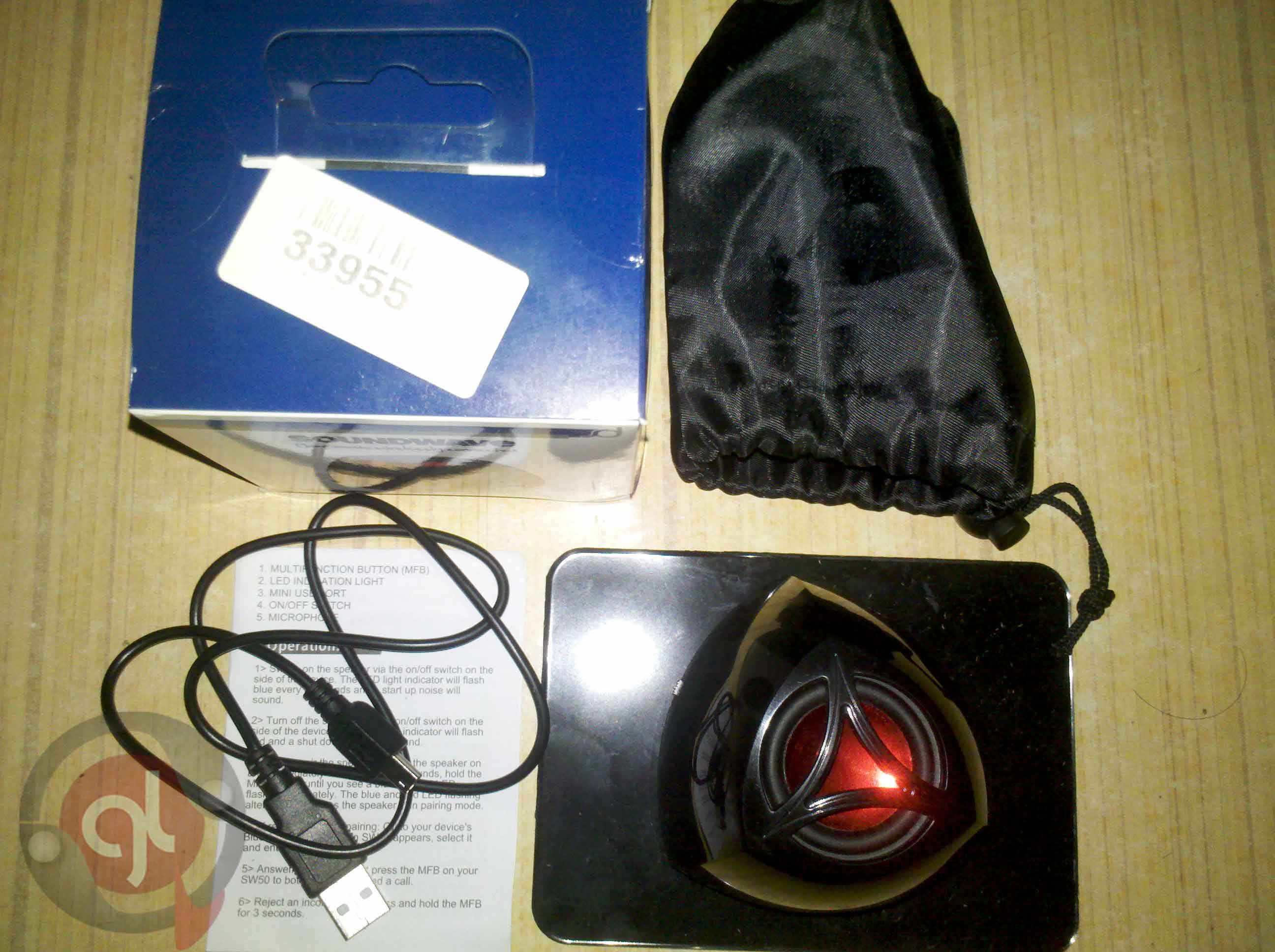 We found the packaging to be really good with nearly all the essential components being provided with the SW50 Speaker. The components supplied inside the box are as follows:
SW50 Speaker : The Wireless Bluetooth Speaker unit.
miniUSB cable : The mini-usb cable to charge Soundwave SW50.
A rubber grip mat : A flexible rubber grip pad to place the SW50 even on any slippery surface like the dashboard of your car.
Manual (English language) : A well written documentation of the product usage and component description.
Usage/Setup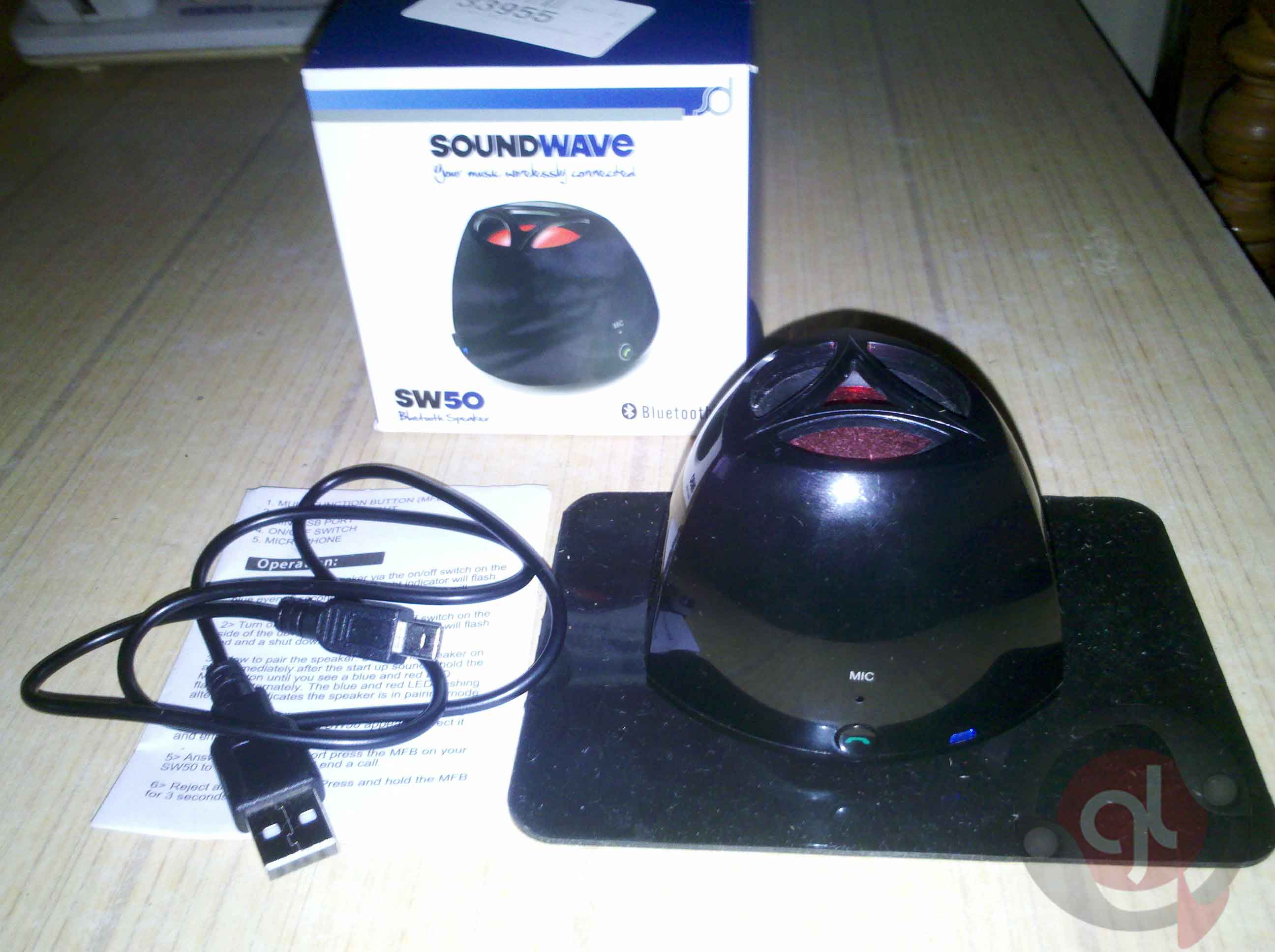 Soundware SW50 is pretty easy to connect and play music. With the dedicated multi-function key provided, one can just press and hold the key until the indicator light blinks multiple color – Red and Blue to make it in pairing mode. Once the pairing mode is activated, you can search for the SW50 in the bluetooth settings of your phone and connect it with single selection. Once it is paired with your device, you can start playing songs and make calls/receive calls very efficiently.
Performance
Soundwave SW50 sound performance is pretty good. Soundwave SW50 performs far equal to those expensive bluetooth speaker from Nokia, Jawbone and others which we consider the major positive point of SW50. The power output of SW50 is at 2W which is pretty similar to that of Nokia Play 360. We are really impressed with the sound quality of the device. The Bass output is marvelous for a compact sized bluetooth speaker. If you have a closer look at the bottom of the Soundwave SW50, you could see a 'reflex' holes which allows bass frequencies to breathe and to escape. Sometimes at certain bass oriented music played at 100% volume may produce distortion.
Battery Life
The Battery of Soundwave SW50 is packed inbuilt of rechargeable 400mAH Li-poly. The Battery life of SW50 is really awesome.Yes, we mean what we say. We charged the Soundwave SW50 full and played the music for nearly more than 3 hours flat and still it was playing very well. We do accept the fact that we couldn't stretch our time more on testing the battery backup life, but assure you that the battery backup of Soundwave SW50 is neatly more than 3 hours flat which is very decent for a wireless bluetooth speaker.
The SW50 battery can be charged via mini-USB cable provided. It was a disappointment that the product doesn't comes with a charger but provided with a mini-USB cable that can be attached to the USB port of a Personal computer or Laptop.
Verdict
Soundwave SW50 is worth every penny spent and you will not be disappointed with its sound performance judging with what you are paying. No other wireless bluetooth speaker we find at this price budget which is even closer to the sound output this product generates.
If looking for non wireless portable speaker, you can check our review on Amkette Trubeats Solo.
We thank MobileFun.co.uk for sending us Soundwave SW50 for review. They have a good collection of the flagship Samsung Galaxy S4 accessories with them, do have a check.
SoundWave SW50 Wireless Bluetooth Speaker - GizmoLord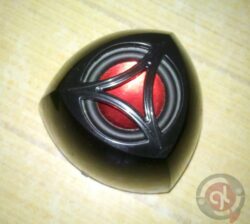 We got a review unit for SoundWave SW50 wireless bluetooth speaker. "Music regenerates the soul" - Who on earth wouldn't like music? But getting the right..
Product Brand: SoundWave
Product Currency: GBP
Product Price: 20
Product In-Stock: InStock