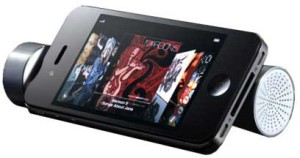 Smartphones in the present generation plays a vital role in humans day-to-day life. Today smartphones have lessen the use of personal computers and laptops to an extent with its handy computing tasks as equal to a personal computer. Although, a smartphone cant be compared directly with a personal computer or a laptop with respect to its performing power, but majority of the tasks we do in computer can be accomplished with the use of a smartphone which is more handy/portable than a personal computer or a laptop.
With the growing demand for larger displays and smarter processing power in a Smartphone with a blend of the successful mobile operating systems, we usually lack is a powerful battery to sustain the use of smartphone for a longer period. This is the point where companies started launching Emergency portable smart power bank chargers.
Whenever you are planning for a long journey or a business trip, such Emergency portable smart power bank chargers can be a necessary gadget to carry along with your Smartphone.
X-Power 2200mAh Smart Power bank
Here I wish to demonstrate about the cheapest yet powerful with added beneficial Smart Power Bank, namely, X-Power 2200mAh Smart Power Bank supported with a powerful bass powered high output speaker with stand. Yes, you heard it right, it isn't just simply an emergency power bank, but a 3 in 1 gadget which can be used to charge your smartphone battery, play music and it acts as a landscape mobile stand too. Confused? Let me explain you with a detailed review on the product.
Packaging: Checking about the packaging condition XDream Inc. provided for their X-Power Emergency Smart Power Bank product, well , it was a disaster. A thin card paper box is the only packaging module for this product. There was no bubble wrap to the product inside of this thin card paper box package making the product prone to transit damage.
The contents inside the thin card paper box package includes:
1. A 2200mAh X-Power Emergency smart power bank charger cum Speaker.
2. USB Data cable with male jack at both side.
3. A User manual.
Product Specification:
Battery specification:
| | |
| --- | --- |
| Battery capacity: | 2200 mAh |
| Battery Voltage : | 3.7V |
| USB input voltage: | 5V |
| USB input current: | 700 mAh |
| USB output voltage: | 5V |
| USB output current: | 600 mAh |
Speaker Specification:
| | |
| --- | --- |
| Power output: | 1.5 W |
| Frequency range: | 200-20000 Hz |
| Sensitivity: | 79 db +- 3 |
| Impedance: | 4 Ohm |
Product Quality: Coming to the product quality, it was at par to the product price factor and average to other competitive brands manufacturing Emergency Smart Power banks. I wouldn't really like to say it as a an average product because of its steel coating, multi-functionality and durability. It is indeed above average product with respect to its quality.
The plastic used is of hard plastic material tough enough to prevent any damages so easily. The battery used is of li-ion and lasts long. The speaker voice quality is of ambient and powerful experience. We would rate it 4/5 for the product quality.
Product Performance: We were unfortunate that the product received by us were having an issue with the charging feature. We doubt it to be an in-transit damage and thus couldn't review about the performance part in proper manner ought to this reason. The product has 4 led lights in blue color indicating the battery level of the Power bank.
Although we couldn't test the charging feature, as when connected to the mobile phone in order to charge, the power bank automatically power off after 10-15 minutes of charging. We suspected that the power bank were low on battery level and thus couldn't charge the phone.
But as we investigated, the power bank was not having issues with playing music via its speaker for prolonged duration. Speaking about the speaker playback, the power bank had an awesome battery backup to play music for more than 4 hours on continuous playback.
Product pricing: The product has been priced very economically at $37.99. This is basically the best price for what the product offers.
Conclusion: All we didn't like about the product is its packaging. If it were of good packaging, we wouldn't have obtained a damaged product which we suspect of an in-transit damage. Checking out with other factors, the product is definitely a worth buy and try.
We thank MobileFun for sending this product to us for a detailed review.