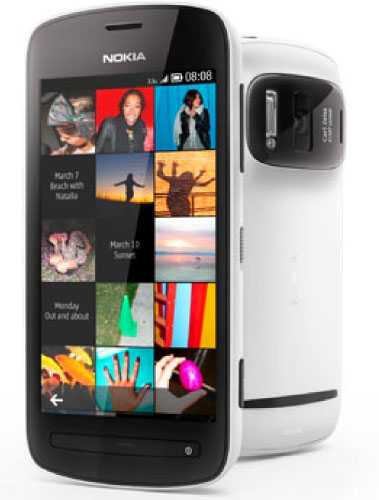 Nokia 808 PureView
Finally, the wait is over for the Nokia N8's successor – Nokia 808 PureView. A power-packed smartphone to give stiff competition to its rivalries. With its groundbreaking 41 MegaPixel image quality, Carl Zeiss lens, and PureView imaging technology, you'll take the best photos ever with a smartphone. For example, when you want a 5 MP photo, PureView packs the goodness of 7 pixels into 1 for sharp, clear, and ready to share photos.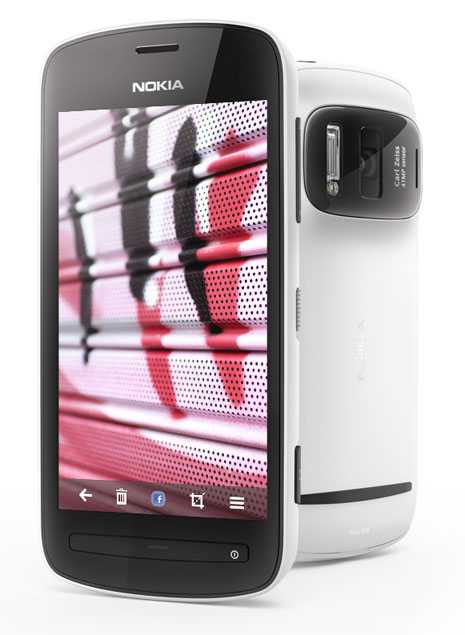 Film in high definition and hi-fi. There's a 1080p Full HD video recording with up to 4 x lossless zoom that's smooth and completely silent. And it's the world's first device to include High Amplitude Audio Capture. This combines a unique digital microphone and Nokia algorithms to record distortion-free audio at levels of up to 140 dB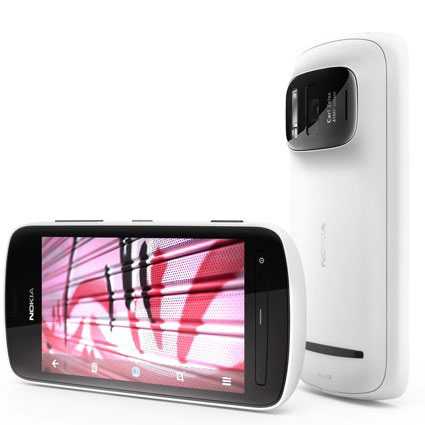 Zoom closer and react faster. The camera activates in less than a second so it's ready to shoot when you need it. You can zoom as fast as your finger up to 3 times as close with zero loss of detail. Nokia 808 PureView can even shoot smooth Full HD video at 30 frames per second at 4 times zoom.
The drama of the darkness is always a photographic challenge. However, in addition to the Carl Zeiss lens and 41 MP sensor, the Nokia 808 PureView gives you a powerful Xenon flash and LED video light so you're ready for spontaneous moments when spirits are high and the lights are low.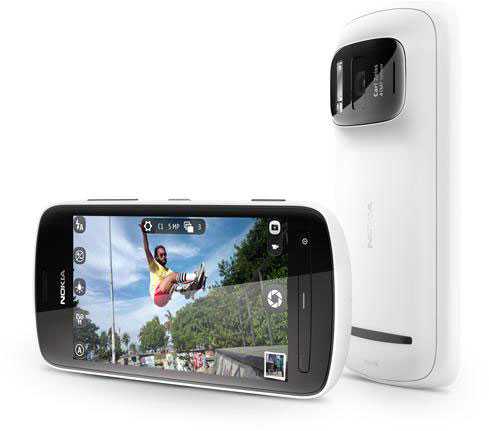 Give the world a different perspective on everyday life – you have creative control. With the intelligent gallery, sharing is easy too. Send photos or videos straight to Facebook or Flickr in the perfect file size or tap to another phone using NFC. Or hook up to an HD TV via HDMI or wireless streaming for a real big screen showing.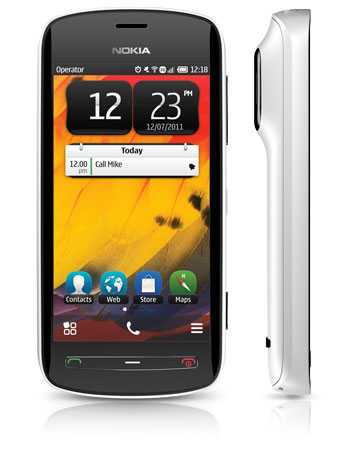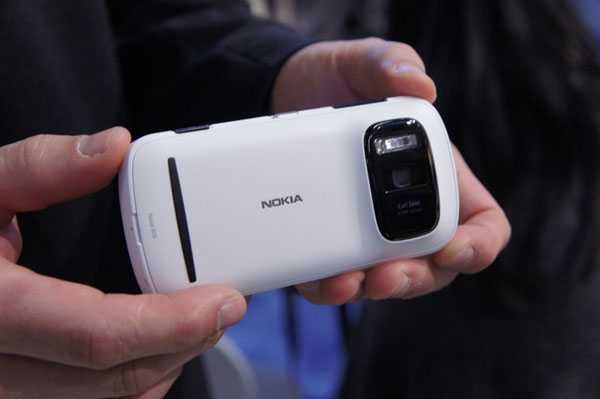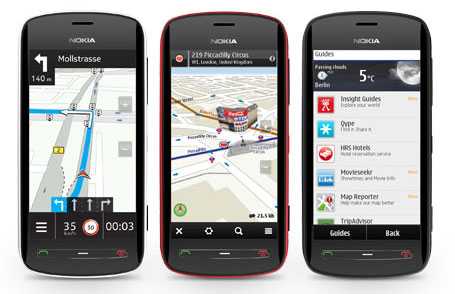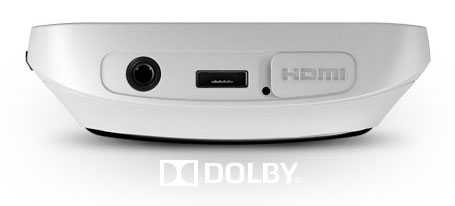 Discover millions of new places to go with Nokia Maps. Check images and reviews before you go and let Nokia Maps show you the way. You'll get guidance by car, on foot, or by public transport – for free. Nokia Drive is fully optimized for in-car use, with navigation for over 100 countries.
Get an amazing entertainment experience everywhere. Nokia 808 PureView is the first smartphone to feature Dolby® Headphones. It's exclusive to Nokia smartphones. With Dolby® Headphones you can get Dolby Surround sound from any stereo headphones. Enjoy a superb surround sound quality with movies, music, and even YouTube videos.
Official Specifications:
Dimensions:
Size: 123.9 x 60.2 x 13.9 mm (17.95 mm at camera)
Weight (with battery): 169 gVolume: 95.5 cc
Memory:
16 GB internal user memory support for up to 48 GB with an external microSD memory card
Use as USB mass memory device for storing photos, documents, and more

Battery Performance:
Talk time (maximum):
GSM up to 11 h
WCDMA up to 6.5 h
Standby time (maximum):
GSM up to 465 h
WCDMA up to 540 h
Design:
Display and user interfaceScreen size: 4″
Resolution: 16:9 nHD (640 x 360 pixels)
AMOLED16.7 million colours
ClearBlack display
Corning® Gorilla® Glass
2.5 D curved glass
Capacitive touch screen
Orientation sensor (Accelerometer)
Compass (magnetometer)
Proximity sensor
Ambient light detector
Keys and input methods
Keys: home, call, end/power, lock, volume, camera
Full touch control
On-screen alphanumeric and full keyboard
Personalisation:
Up to six customizable home screens:
menu
widgets
themes
shortcuts
icons
Customisable profiles.
Ringtones: mp3, AAC, eAAC, eAAC+, WMA, AMR-NB, AMR-WB
Video ringtones.
Themes
wallpapers
screensavers
audio themes
pre-installed themes
changeable colour themes
Hardware:
Power Management of Nokia 808 PureView
BV-4D 1400 mAh high voltage Li-ion battery
Talk time (maximum):
Standby time (maximum):
Data network:
GPRS/EDGE class B, multislot class 33
HSDPA Cat10, maximum speed up to 14.4 Mbps, HSUPA Cat6 5.76 Mbps
GSM CS data class 33, GSM EGPRS data class 33, DTM 32
WLAN IEEE802.11 b/g/n with UPnP support
TCP/IP support
Capability to serve as data modem
Support for MS Outlook synchronisation of contacts, calendar and notes
Memory:
16 GB internal user memory
Support for up to 48 GB with an external microSD memory card
Use as USB mass memory device for storing photos, documents and more
Operating Frequency:
GSM/EDGE 850/900/1800/1900
WCDMA 850/900/1700/-21001900/2100
Automatic switching between WCDMA and GSM bandsFlight mode
Inbuilt : An FM Transmitter
Connectivity:
High-Speed USB 2.0 (micro USB connector)
Micro USB connector and charging
USB On-the-Go
3.5 mm Nokia standard audio connector with TV-out
Secure NFC
WLAN
A-GPS
FM transmitter
Software and Applications:
Software platform and user interface
Nokia Belle Feature Pack 1
Java MIDP 2.1
Qt 4.7.3, Web Runtime 8.2
HTML 4.1
Basic HTML 5
Software updates Over the Air (FOTA) and Over the internet (FOTI)
Flash Lite 4.0
OMA DM 1.2, OMA Client provisioning 1.1
Personal Information Management (PIM)
Detailed contact information
Multiple calendars with meeting request support
To-do list
Notes
Recorder
Calculator
Clock
Support for MS Outlook synchronization of contacts, calendar and notes
Applications:
Key applications: Camera, Gallery, photo and video editors, Calendar, Contacts, music player, internet, messaging, photos, Nokia Store, Maps, Videos, Web TV, Office document viewers, Mail, Radio
PC Applications: Nokia Suite
Communication:
Email and messaging:
Easy-to-use email client with attachment support for images, videos, music and documents .doc/ .docx, .xls/ .xlsx, .ppt/ .pptx, .pdf, .zip
HTML support for email
Unified push email client supporting multiple protocols: Yahoo!® Mail, Gmail™, Windows Live™, Hotmail and other popular POP/IMAP services, Mail for Exchange
Email web widget for home screen
Unified MMS/SMS editor
Conversational view for SMS and Email
Call management:
Contacts: advanced contacts database with support for multiple phone and email details per entry with personal thumbnail pictures and video clips
Smart dialling to find phone numbers quickly
Speed dialling, voice dialling (speaker independent) and voice command
Logs of dialled, received and missed calls
Conference calling
Integrated handsfree speakerVideo calling
Sharing and Internet and Navigation:
Full web browsing of real web pages
Web browsing with touch control
Supported markup languages: HTML, XHTML, CSSSupported protocols: HTTP v1.1TCP/IP supportVisual history, fast back (one step back or one touch back), HTML and JavaScript support
Flash Lite 4 will support a majority of Flash Player 10.1 content
Nokia Mobile Search
Simplified UI with Context Menu's
Integrated Bookmarks/History/most Visited View
RSS reader
Support for streaming video
Unified home screen access to Facebook and Twitter through the Social client
Upload and view photos and video and see locations via Ovi by Nokia Social client
GPS and navigation
Integrated GPS, A-GPS receivers
Nokia Maps with free car and pedestrian navigation
Wi-Fi and network positioning
Compass
Accelerometer for correct orientation of display
Photography:
Nokia 808 PureView 41 megapixel camera sensor with Nokia Pureview Pro imaging technology and Carl Zeiss optics
Fullscreen 16:9 viewfinder with easy on-screen touch controls
Xenon flash with operating range up to 3.5 m depending on conditions. Automatic fill-flashLED for video recording
Focal length: 8.02 mm (35 mm equivalent focal length -26 mm, 16:9 / 28 mm, 4:3)
Auto focus and touch to focus
Focus modes: Hyperfocal, Macro, Infinity and AutoFocus range: 15 cm ~ infinityMacro focus 15-50 cmF number/aperture: F2.4
Supported aspect ratios and resolutions True 16:9 (2 MP, 5 MP [Default], 8 MP, 41 MP) 4:3 (3 MP, 5 MP, 8 MP, 41 MP)
Three shooting modes: Auto, Scenes, Creative
Face detection software
Launch camera from lock with full press of capture key
Image capture:
Still images file format: JPEG/EXIF
Automatic location tagging (Geotagging) of images and videos
Automatic time and location marking for images and video in gallery
One touch access from camera to captured images
Images automatically taken in the correct orientation
Pinch zoom in Photos image viewer and double tapping
Integrated photo editor
Video Camera:

41 MP sensor with PureView Pro imaging technology and Carl Zeiss optics Video resolutions: Full HD (1920×1080) 30fps [Default], HD (1280×720) 30fps, nHD (640×360) 30fps

Slide Zoom: 4x1080p [Default], 6x 720p, 12x360p

Frame rates supported: 15, 24, 25, 30fps

Stereo High Amplitude Audio Capture (HAAC)

Video encoding: H264 High Profile Level 4.0, H263 / audio: 128 kbps, 48 kHz

Three shooting modes: Auto, Scenes, Creative Integrated video editor for trimming video Music and Audio: Music features:

Stereo music player supporting MP3, M4A, AAC, AAC+, eAAC+. WMA

Dolby Headphone for surround sound with headphones

Music Player:

Flick scrolling user interface to browse the albums in your music collection

Nokia Music Unlimited service in selected markets

Nokia Music PlayerNokia Music

Audio codecs: MP3, WMA, AAC, eAAC, eAAC+, AMR-NB, AMR-WB

Bit rate up to 320 kbps

DRM support WM DRM, OMA DRM 2.0

Playlist support and playlist editing; 8 channel graphic equaliser

Synchronize music with Nokia Music Player and Microsoft Windows Media Player 11.

Radio

Stereo FM radio (87.5-108 MHz/76-90 MHz)


Gaming:
Use the touch interface to play games

Dedicated graphics processor with OpenGL 2.0 enables 3D graphics

Native and Java games

Use the accelerometer to play games

NFC for multiplayer games

Preloaded games

More games available for download at Store


Standard Sales Package:
Nokia 808 PureView
Nokia Battery BL-4D
Nokia Stereo Headset WH-209
Nokia Data Cable CA-190CD
Nokia Charger AC-50
Nokia Wrist Strap BlackFold-Out Quick Guide
NFC info card
Nokia 808 PureView with a huge 41 Megapixel Camera launched - GizmoLord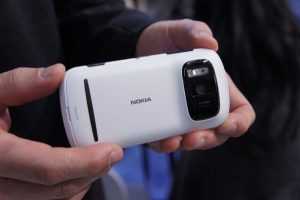 Nokia 808 PureView. A power packed smartphone to give a stiff competition to its rivalries. With its groundbreaking 41 MegaPixel image quality
Product Brand: Nokia
Product Currency: INR
Product Price: 34,499
Product In-Stock: InStock