Shopping experience has changed drastically and has been revolutionized over the time. If we were to compare the time 17 years back wherein telephones, computers, mobile phones were an alien technology to today's innovations where these gadgets are an integrant part of our lives. We can only imagine what technology will have to offer us 17 years from now. People were incognizant about online shopping and today it is one of the rapidly booming sectors which has created an additional buzz due to the variety and quality of commodities it can offer with just a click.
Online Shopping
Today we are not only comfortable with the idea of shopping online, but automation has also escalated our online enthrallment. Be it accessing internet from our portable laptops and palmtops, to our very own concise smart-phones owned by all and sundry, from ditching long queues for payment to eluding running aisle to aisle on a scorching hot day to shop, online shopping enables you to shop in comfort and at your time without any hassles.
With online shopping sites such as Flipkart, Myntra, Jabong and Snapdeal introducing the concept of free home delivery and cash on delivery, customers have developed a strong trust with these online shopping sites. eBay entering into the marketplace with the introduction to selling off used gadgets at cheaper rates have added another boon to the online shopping experience. One need not have to search the whole city to purchase a second-hand smartphone or any gadget but log into eBay shopping which provides a direct deal between the seller and the buyer via their shopping portal.
Both the buyers and sellers have a great shopping experience with trust, guarantee and safety. eBay India have also launched their eBay official Google Chrome extension where a buyer is provided with the best deal available for the product they are searching for all on an automated process which adds another revolution to the online shopping experience.
2030 will be a digitally revolutionized age with incomparably less number of stores not only due to space crunch and exorbitant land prices, but also because not many people would prefer going physically to shop at a store when technology would be at the tip of their fingers. Imagine the time when you go to the mall in urgent need of something and the shop shuts, hi-tech shopping will enable you to shop at your own comfort and without any dead-lines and time constraints.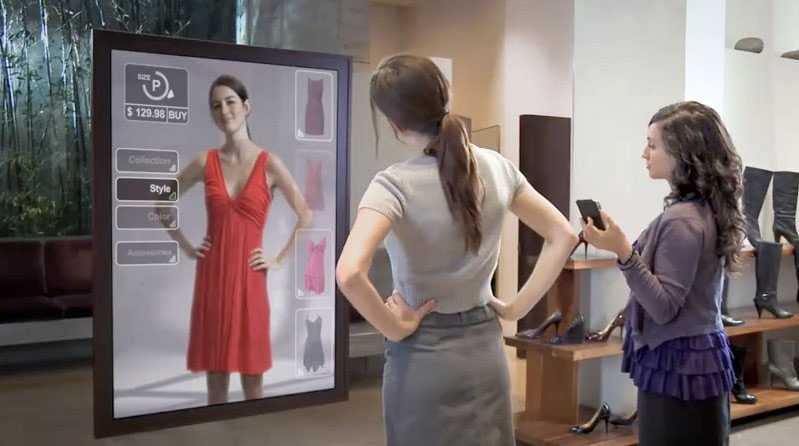 With the newest discoveries of today like wearable computers, digital glasses, electronically digitized watches and much more connectivity will be an indispensable factor of the age of 2030 shopping. This won't completely eradicate the stores as it has a lot of touch and feel criteria and it is a stress buster to go to the store and window shop.
We have accepted this new digital age with open arms and it has a lot to offer along with a whole new shopping experience. There would be enormously life-size large screens with touch screen mannequins and digitized render of you enabling you to slide any item of clothing you pick onto it.
This digitized render of you will be accurately representing your body size and shape for an errorless shopping experience. This would also allow you to view as many angular views of the garment on you along with different colours available and stock information on the same. It would have online guidance for you, from assisting you as to what looks better on you to permitting you to share these pictures with your friend's for an online boost it shall present you with all.
After the selection of a particular item it would have the details sent on your smart phone which would authorize you to pay as per your convenience and have it sent at your home whenever you want. This will cause prominent rise and competition between e-commerce web portals.
Flourishing technology will dictate its terms for our shopping in 2030. The dynamic rate at which newer products are entering the market, we can only guess what 2030 has in store for us. Are you not yet ready for the online shopping experience? Do let us know your views in the comments section below.