Amkette is already a known brand in India for the computer peripherals they manufacture and distribute. We already have covered many of their audio segment gadgets such as Amkette Trubeats Solo, and Amkette Truchat Boomer Wired Headset along with computer accessories like Amkette Smart Bluetooth Keyboard. They indeed is a recognized brand in India for their quality products and rock bottom economic pricing for each product they release. We recently grabbed their car audio accessory Amkette Car Stereo Aux Cable 1.2M and we are here with our in-depth review of this product as follows:
Amkette Car Stereo Aux Cable 1.2M in depth review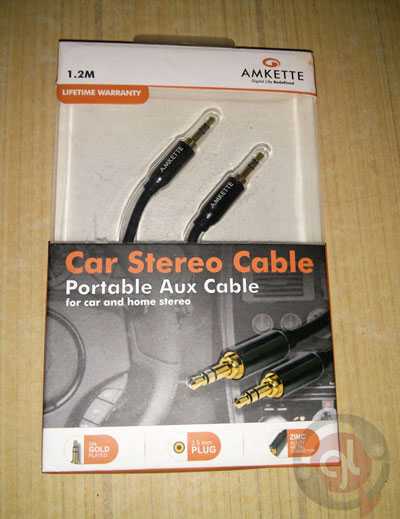 Package
The cable is packed in a card paper cum plastic moulded case. The matte finish package looks impressive with 3D gloss image of the Aux cables printed on front and back of the package. The back portion of the package is printed with description of the Amkette Car Stereo Aux Cable, its features and the package contents. The package also mentions that the product is available in white and black color.
Design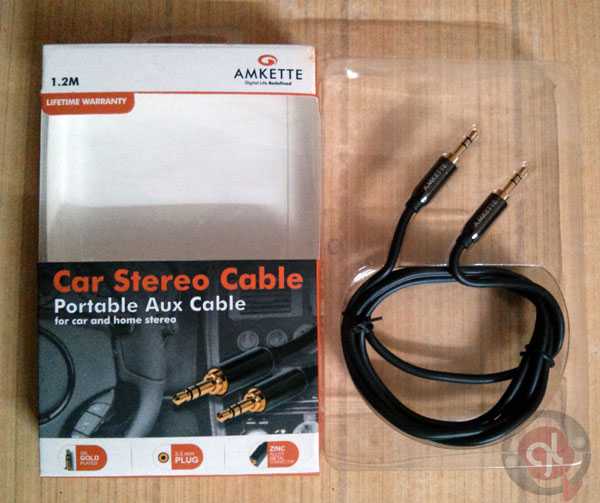 The cable is a 3.5mm Male-Male Aux cable. It is designed very precisely keeping the premium feel and quality aspects. The cable lengths exactly 1.2 metres in size. The cable wire is round in shape and the size is very thick for which entangling of wires is 80% reduced.
Quality
This cable is very seriously designed with high quality materials making the brand Amkette to offer Lifetime Warranty on this product as they are very sure about the quality offered and rare chances of breakdown of this product. Just by looking itself, we had in our minds that the product is seriously well built and later on usage we indeed felt the same. We would like to give 100% ratings to this product over the quality it offered for the price tag.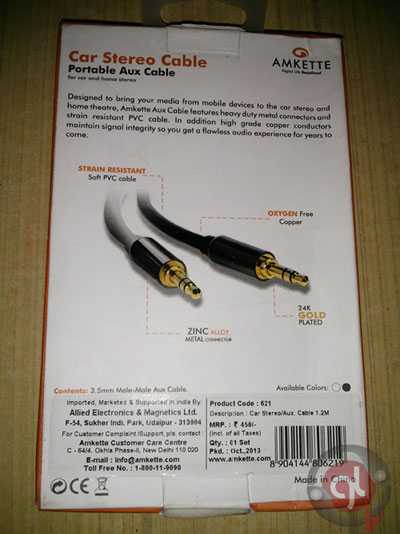 The connector is made of heavy duty zinc alloy metal and the cable is made of stain resistant PVC. This cable features high grade oxygen free copper conductors which helps in maintaining signal integrity so that you get a flawless audio experience. The 3.5mm audio plug is 24K Gold plated.
Performance
This aux cable is a true performer with audio signals. We thoroughly examined this product with different mediums such as Car audio system, Home stereo, Wired speakers such as Amkette Trubeats Solo and Amplifiers. The product didn't disappoint us in any of our examinations and tests. With high grade components used to manufacture this product, the product no wonder will ever disappoint us with its usage aspect.
Value for money
This aux cable is priced at an MRP of 450 INR which seems very fair for its quality and durability. The product comes with a lifetime warranty from Amkette India and hence you need not worry about anything in future about this product breakdown, Amkette India will replace it for you if anything such happen unfortunately. But believe me, judging with the quality of the product, it will never go wrong. You can purchase this awesome product from India's popular online shopping stores such as Flipkart, Amazon India, Snapdeal, and Croma Stores.
Amkette Car Stereo Aux Cable 1.2M - Review - GizmoLord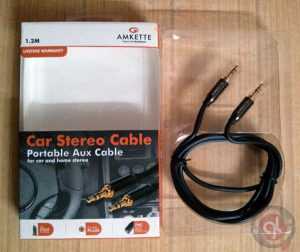 Amkette Car Stereo Aux Cable 1.2M is designed very prescisely keeping the premium feel and quality aspects. The cable lengths exactly 1.2 metres
Product Brand: Amkette Car Stereo Aux Cable
Product Currency: INR
Product Price: 450
Product In-Stock: InStock