Nokia Lumia 800 Giveaway
Gizmolord as part of its 1st birth anniversary with the overwhelming support and love from all the members, subscribers and readers is glad to announce our Nokia Lumia 800 GizmoLord Contest #3. Yes, you heard it right, we will be conducting our next Tech Contest for our dedicated members at GizmoLord Forum. We will be giving away a brand new Nokia Lumia 800 (Black) to one of our lucky members at forum.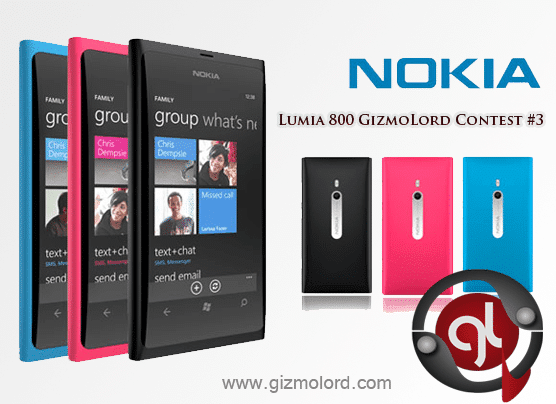 Nokia Lumia 800 is one of the finest innovation on the smartphone design layout by Nokia. The perfect blend of Quality hardware and years of successful innovative experience over the mobile manufacturing and marketing with world class service is what makes Nokia stand unique among its competitors.
Nokia Lumia 800 features the Windows Phone 7.5 Mango mobile operating system by Microsoft. More detailed configuration of Nokia Lumia 800 Smartphone can be found at official Nokia website or famous tech blog gsmarena.
All you have to do is follow the below mentioned procedure:
Procedure to take part in Nokia Lumia 800 GizmoLord Contest #3:
1. Like our Official Facebook Page
2. Follow our Official Twitter Page
3. Subscribe to our Official Youtube channel
4. Make a post in the contest thread in forum mentioning why you would like to have this most charming smartphone from Nokia.
Additional Tips for increasing the chances of Winning the Contest:
1. Post this article link on your Facebook Profile with privacy of the post set to "Public" so that we can view and verify the submission.
2. Tweet this article with hashtag (#) as "#gizmolord" and also mentioning Gizmo_Lord official twitter page. This is how the hashtag will look like: #gizmolord. Make sure your tweets are publicly visible and aren't set to private or locked.
3. If you have a personal blog, you can post an article mentioning about this contest and providing with a link to this article.
4. Referring members to gizmolord forum using your unique referral link provided in the profile section of your account at GizmoLord Forum.
Make sure you do not cheat by registering with fake accounts in perspective of winning this contest. All entries are recorded and monitored by the unique security system at GizmoLord. Defaulters will get a permanent ban from visiting the forum if we track such activity and will be barred from entering any contests held at GizmoLord. Be honest and play safe.
Contest Validity and Declaration of Winner:
Starting from this article post date, the Contest will run until 21st of September 2012 and the result will be declared on the next consecutive day i.e. 22nd of September 2012.
The Result will be on lucky draw basis where we will be using random.org. Special considerations and special draw for members with better follow up on Additional Tips which we mentioned for increasing the winning chances.
We will email the contest winner as soon as the result is declared. The winning member will then need to provide his/her residence address where the Nokia Lumia 800 (Black color) will be shipped to.
Rules and Regulations:
1. Members should not make multiple accounts in forum in view of cheating the contest to increase the winning chances. We track each member with respect to IP address and cookies.
2. The winning person is required to provide us with the address to get the Nokia Lumia 800 (Black) delivered. Please refrain from participating in the contest if you wish not to provide us with the residence address.
3. All the members participating in the forum should update their Facebook and Twitter profile field mandatory in the Forum Profile section. Avoiding this will result in cancellation of entry for the contest.
So what are you waiting for? Participate in the Contest and grab this super awesome Nokia Lumia 800 and enjoy the Music with great musical experience. We will be coming up with more such fabulous contests in coming months.